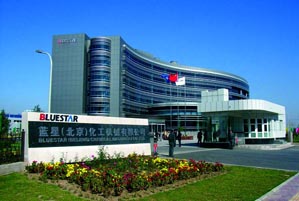 Based on relocation and formation of Beijing Chemical Machinery Works which established in 1966, Bluestar (Beijing) Chemical Machinery Co., Ltd (BCMC) became a 100% subsidiary of China Bluestar (Group) Corporation in 1998. BCMC takes "develop Chinese ion exchange membrane electrolyzer, and contribute to professional technology" as its responsibility, and is the company who can develop, design, manufacture ion membrane electrolyzer and provide whole set ion membrane electrolysis technology and plant as well as supply engineering service in China.
Its ion-membrane- electrolyzer-supplying-capacity can meet 3 million tons caustic soda production per year and its electrode-supplying-capacity can meet 5million tons caustic soda production per year, with about 47% market share of ion membrane process caustic soda in China. BCMC takes ion membrane electrolysis technology and electrolyzer as core and extends to upstream and downstream, brine purification, caustic soda evaporation, caustic soda flake could be supplied as module and formed its know-how production. BCMC have supplied ion membrane electrolyzers with total annual capacity of 16,000,000 tons caustic soda and metal-anode diaphragm electrolyzers with total annual capacity of about 5,200,000 tons caustic soda , totally serving more than 120 Chlor-Alkali plants in China and overseas. Zero gap electrolyzers' capacity with more than 7,000,000 tons caustic soda is included in above total capacity. BCMC is not only an ion membrane electrolyzer manufacturers, but also a permanent member of the China Chlor-Alkali Industry Association.
The total asset of BCMC is 1.3 billion. BCMC has nearly one thousand employees. BCMC's ion membrane electrolyzer famous as "Bei Hua Ji" has been always a outstanding company of Beijing, was elected "China well known brand" by China Petrochemical Industry and Chemical Industry Unions. NBZ zero gap ion membrane electrolyzer won 2010 "National Key Point New Production" certificate of the Ministry of Science and Technology, at the same time won "Science and Technology Progress Prize " of China Petrochemical Industry and Chemical Industry Unions.
BCMC has owned the First, Second and Third total three types of pressure vessels' design, manufacturing licenses, with advanced technology , process ,equipment, also has the ASME certificate issued by American Society of Mechanical Engineers ,U and U2 symbol steel seal as well as European CE certification.
Beijing Chemical Machinery Works has been dedicating itself to energy-saving, environmental protection green industry, highlighting self-renovation, implementing SHE, continual improvement, refining on production and organizational reform. Implement marketing strategy and brand extending strategy. By introducing the chemical industry practice of the world, BCMC is shaping itself to be a professional, engineering, service, international well-known company. BCMC takes "Create more value for shareholders, create more jobs for the society" as its enterprise concept, takes "neither competing for resources with upstream industries nor competing for market with downstream businesses as its operation concept, takes "there is no authority, boundaries or limits in innovation" as its innovation concept.