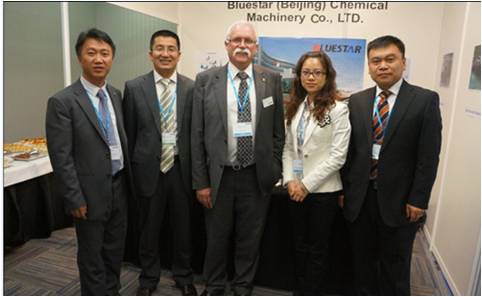 Recently, the deputy general manager of Bluestar (Beijing) Chemical Machinery Co., LTD Mr. Wang Weihong, minister of sales department Gao Feng, deputy minister of sales department Pan Weizhao and E-commerce CCO Wang Siyan attended "the Ninth Euro Chlor Technical Seminar and Exhibition" in Madrid, Spain. This year is the 25th anniversary of the Euro Chlor, Latin America Chlor and RusChlor were invited to participate in the meeting, 370 people from 35 countries attended the meeting.

At this meeting, Bluestar (Beijing) participated in special sessions, such as technology, industry, environmental protection, safety and health, etc., especially made an extensive discussion about ion-exchange membrane method replacing mercury method; and made a speech in technical seminar for introducing our company's profile and electrolyzer technology, manufacturing, services and other related information to the participants.
During the meeting, Bluestar (Beijing) respectively made a project cooperation exchange with potential overseas partners, our products and technologies have been recognized by customers which helping laid the foundation for further cooperation.
Through the meeting, the cooperative relationship between Bluestar (Beijing) and the Euro Chlor has been deepen and the product's brand awareness and influence has been enhanced. It will be see the potential project information in European market, which will bring new opportunities for the company to further develop the European market.