Bluestar (Beijing) Chemical Machinery Co., Ltd. believes in "developing Chinese-style ion-exchange membrane electrolyzers and contributing to catch up and global levels." It is the sole domestic company researching, developing, designing and manufacturing ion-exchange membrane electrolyzers and providing ion-exchange membrane electrolysis technologies and devices as well as engineering services. For years, it has provided professional advantages, strengthened project management, raised service levels and granted support for safe and healthy development of the domestic chlor-alkali sector.
1、Professionalization:
(一)Technical force
Bluestar (Beijing) Chemical machinery Co., Ltd. has a professional research and development team with strong technical force. Now there are 350 technicians,including 150 research staff, 41 with senior titles, 15 doctors and 37 masters.
The company worked jointly with Beijing University of Chemical Technology and Beijing University of Technology in establishing "researching center of new type electrode of ion-exchange membrane electrolyzer", "engineering technology research center of carbon fiber composite material" and "joint research center of advanced manufacturing process and technology", founded a technology innovation system of industry-academy-research partnership.
(二)Production equipment
BCMC relies on technical progress, introduces advanced production equipment, raises its manufacturing capacity and develops a chlor-alkali equipment production base. It spent more than ten million RMB in equipment, cooperated with the equipment manufacturers in the world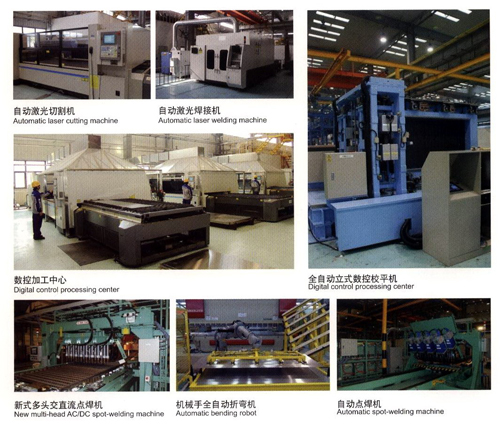 2.Engineering:
A high-caliber project management team implements, manages and controls projects.
It has provided more than 200 basic designs for ion-exchange membrane electrolysis for domestic and foreign customers. In recent years, it cooperates with Changsha Design & Research Institute of the Ministry of Chemical Industry to design more than 20 projects. The business covers process, instrumentation, electrical systems and equipment. It employs a design team. Designed modules include primary brine, secondary brine, electrolysis, dechlorination of light brine, chlorine hydrogen treatment, HCl synthesis, liquid chlorine, evaporation, high-purity HCl, high-purity water, DCS automation, rectifier power supply and utilities. It cooperates with many design institutes with grade-A design qualifications to jointly provide EPC implementation for domestic and foreign clients. It focuses on ion-exchange membrane caustic soda engineering projects, including the design, purchase, manufacturing, installation, construction and startup of units, such as primary brine, secondary brine, electrolysis circulation, electrolysis rectification, dechlorination of light brine, chlorine hydrogen treatment (synthesizing HCl from hydrogen, and turning chlorine gas into liquid chlorine), evaporation, high-purity HCl, high-purity water, DCS automation, rectifier power supply and utilities.
EPC caustic soda unit expansion project of Jiangxi Xinghuo
Undertaken in April 2011, the project is an ion-exchange membrane caustic soda unit expansion and upgrading project of Jiangxi Xinghuo Organic Silicone Plant. Total capacity is 100,000 tons of caustic soda a year. The main scope of engineering is the design, purchase, construction and test runs of the primary brine refining units (including membrane denitrification); secondary brine refining; electrolysis, rectification and power transformation; light brine dechlorination; chlorine gas treatment (including emergency waste gas treatment); hydrogen treatment; HCl synthesis and high-purity HCl; product soda tank farm and caustic soda low-temperature water stations, circulating water stations and other auxiliary units. Scope of management is EPC management of the design, purchase, construction and test runs of the project.
3.Services-based:
BCMC has focused on the policy and dedicated to constructing service system. BCMC can supply good quality service to both domestic and oversea customers with a professional service center and senior experts.
Module installation, personnel training, commissioning and start-up guidance, upgrading and reformation, operation management consulting, technical support and other services
(1)Module installation: It possesses the ability for manufacturing and engineering installations of chelating resin tower modules, electrolysis battery limits, 32%~50% caustic soda evaporation modules and other specific modules, and provides high-quality and cost-effective module manufacturing and installation services for customers.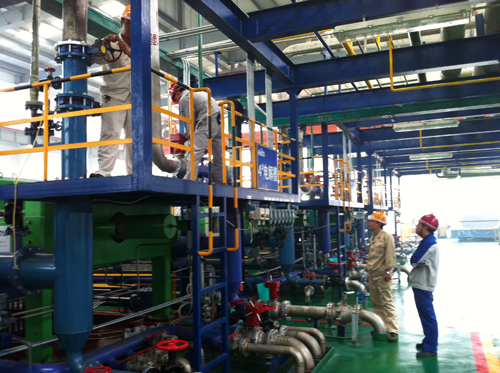 (2)Personnel training: It provides training on professional knowledge, operations management and operations skills for users.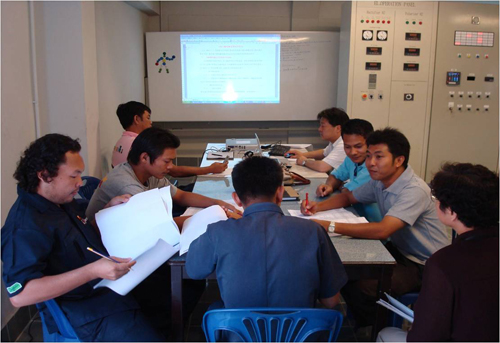 (3)Start-up guidance: It provides guidance for users on the commissioning and start-up of units and technical support for users in operations management, explains and diagnoses problems discovered during operations and helps users work out solutions.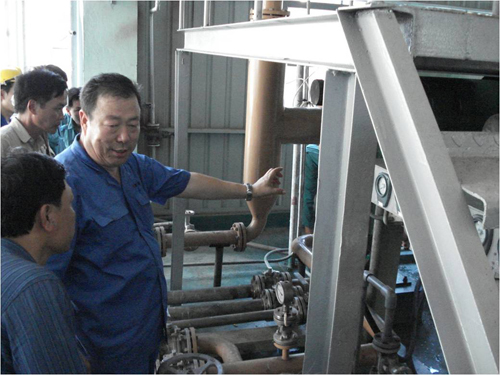 (4)Upgrading and renewals: It applies the energy conservation technologies to upgrade and reform old units of users and provides repairs and upgrades of ion-exchange membrane electrolyzers for users.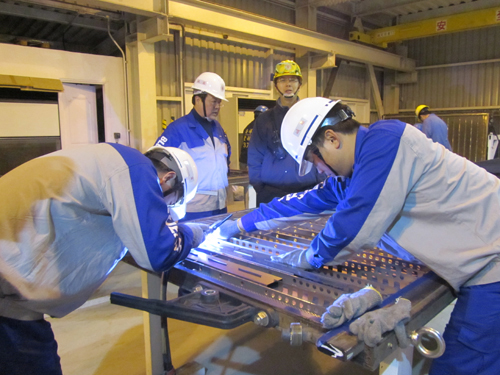 On December 24, 2011, China Petroleum and Chemical Industry Federation invited more than 30 experts in the sector to appraise technology for upgrading membrane polar distance of the original ion-exchange membrane electrolyzers of the Binhua Group Co. Ltd., Shandong. (photo)
On April 27, 2011, membrane polar distance electrolyzer produced and refitted for Mailiao Caustic Soda Plant of Formosa Plastics Group was operating in Formosa to boost its popularity.